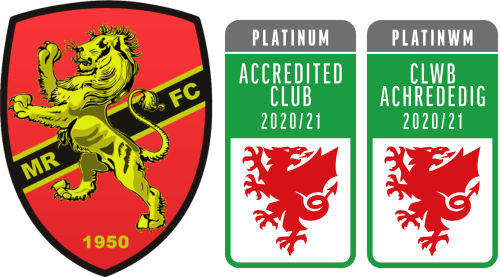 ​Mumbles Rangers Vice Presidents
The club would thank all of our Vice Presidents for your support.
When the Vice Presidents was formed in the early 1980's we were running four senior and a few junior sides, now Mumbles Rangers have thirty-six teams, over five hundred players and over one hundred coaches and volunteers. A fantastic achievement. We cannot stress enough the importance of having the Vice Presidents assistance in supporting Mumbles Rangers.
Many of our vice presidents were once players in the club and continue to support us. Your annual subscription helps to maintain Billy Johns Clubhouse and give the children and youth of Mumbles a pathway into sport. It also gives you a voting right at the club Annual General Meeting. You'll be kept up to date with an Annual Newsletter and other club information will be emailed out regularly. You will receive details of our Annual Sports Luncheon and other club functions.
We welcome any individual who wish to support the club to complete the membership form on this page and return to the Vice Presidents Secretary. This can be done either by post or scanned and emailed to vp@mumblesrangers.co.uk
We thank all of our Vice Presidents for your continued support
Should you have any questions regarding membership of the Vice Presidents Club then please contact Fraser Gardiner on 07980 360039 or email vp@mumblesrangers.co.uk

​Life Members
Bobby Aspell, Keith Billington, Tony Brown, John Budge, Fred Clement, Vic Collier, Des Criddle, Johnny Davies, Keith Davies, Dai Davies, Martin Duffy, Jeff Fackrell, Clive Gammon, Fraser Gardiner, Neil Gray, David Harris, Mike Harvey, Clive Henson, Hylton Jolliffe, Andy Jones, Mervin Jones, George Kyrillou, Haydn Lewis, Vivian Lewis, Terry Llewellyn, Roy Lloyd, Grafton Maggs, Eric Nicholas, John Norman, Alan Ockwell, Terry O'Brien, Brian Owen, Chris Parkin MBE, Doug Peachey, John Pickard, Michael Podbielski, Carlo Prete, Danny Sheehan, Bob Smith, Paul Thomas, Eddie Wade, Mark Wade,
Life Vice Presidents
Terry Medwin (1959) Werner Sivertsen (1974) and Danny Sheehan (1977)
Mr. Geoff Ackland
Mr. Chris Adams
Mr. David Allnat
Mr. Leroy Anderson
Mr. Mark Anderson
Mr. Mike Anderson
Mr. Ron L Austin
Mr. Anthony Avo
Mr. Phil Barry
Mr Alan Baglow
Mr. Alec Bennett
Mr. Lee Bennett
Mr. Steve Bennett
Mr Hugh Bevan
Mr. Keith Billington
Mr. Cathy Blackmore
Mr. Chris Blackmore
Mr. Justin Blewitt
Mr. Nick Blyth
Mr. Peter Blyth
Mr. Tim Bolter
Mr. Steve Bond
Mr. Adrian Bowen
Mr. Adam Brown
Mr. Clifford J.T. Brown
Mr. Tony Brown
Mr. Robert Antony Carlsen
Mr. Lee Carlsen
Mr. Joff Carroll
Mr. Lawence Chisesa
Mr. Kevin Chellew
Mr. Steve Chivers
Mr. Clive Cockings
Mr. Vic Collier
Mr. Geoff Cottle
Mr. Peter Cook
Mr. Simon Crawford
Mrs. Barbara Criddle
Mr. Des Criddle
Mr. Alan Davies
Mr. Andrew Davies
Mr Christopher Davies
Mr. Dorian Davies
Mr. Keith D. Davies
Mr Stuart Davis
Mr. Alan Dawtry
Mr. Russell Denty
Mr. C DiIulio
Mrs. Maureen Donald
Mr. J Murray Donald
Mr. Martin J. Duffy
Mr. Bernard Evans
Mr. Leighton Evans
Mr. Michael Evans
Mrs. R.E. Evans
Mr. Richie Evans
Mr. Roy Evans
Mr. Jeff Fackrell
Mr. Chris Fortey
Mr. Andrew Frudd
Mr. Fraser Gardiner
Mr. Michael Gardiner
Mr. Patrick Green
Mr. Matthew Gittoes
Mr. Steven Goodman
Mr. Neil Gray
Mr. Howard Grey
Mr. Hugh Griffiths
Mr. Chris Gudgeon
Mr. Roger Guntrip
Mr. Bert Harris
Mr. Dave Harris
Mr. Matthew Harvey
Mr. Mike Harvey
Mr. Clive Hemp
Mr. David R Henson
Mr. Howard Henson
Mr. David Holland
Mr. Gareth Hughes
Mr. Steven Hunt
Mr. Nigel Impey
Mr. Mike Isaac
Mr. Ken Jenkins
Mr. Thomas Jenkins
Mr. Roger Johnson
Mr. Adam Jones
Mr. Alex Jones
Mr. Allan Jones
Mr. Andy Jones
Mr. Colin Jones
Mr. Chris Jones
Mr. David Jones
Mr. Huw Jones
Mr. Lyndon Jones
Mr. Mervin H Jones
Mr. Stuart Jones
Mr. Steve Kift
Mr. Richard Knox
Mr. George W Kyrillou
Mr. Bernard Leather
Mr. Haydn Lewis
Mr. Mike Lewis
Mr. John Lodge
Mr. Nigel Lovering
Mr. Chris Marshall
Mr. Brian McNamara
Mr. Kevin McCloskey
Mr. Jason Meir
Mr. John D Meir
Mr. Malcolm Miller
Mr. Malcolm Miller
Mr. Robert Mogan
Mr. Andrew Morris
Mr. Michael Morris
Mr. Paul Nelson
Mr. Paul Nicholas
Mr. Jamie Nicklin
Mr. John Norman
Mr. Kenneth George O'Brien
Mr. Terry O'Brien
Mr. Larry Owen
Mr. David Palmer
Mr. Chris J Parkin
Mr. Michael J Parkin
Mr. Robert Lee Parkin
Mr. Doug Peachey
Mr. Ken Pickard
Mr. Mike Pickard
Mr. Mike Podbielski
Mr. Grant Poiner
Mr. Bob Polden
Mr. Mark Portsmouth
Mr. Richard Prosser
Mr. Steve Price
Mr. Barry Pullin
Mr. Steve Quinn
Mr. Jonathan Reason
Mr. Patrick Reed
Mr. Justin Rees
Mr. Peter Reeves
Mr. Roger Roberts
Mr. Jon Robinson
Mr. N.C. Rogers
Mr. Andrew Sanobrovic
Mr. Ian Seaton
Mr. Stuart Sheils
Mr. H.D. Simpson
Mr. Andy Smith
Mr. G.S. Smith
Mr. Jerry Steele
Mr. P. Stephens
Mr. Bill Sterio
Mrs. Barbara Tait
Mr. Clive Tilbury
Mr. Neil Trainer
Mr. Dave H.P. Thomas
Mr. Richard Thomas
Mr. Roy Thomas
Mr. S.C. Thomas
Mr. W. Glyn Thomas
Mr. Ray Thompson
Mr. Jack Thorne
Mr. John Turner
Mr. Andrew Vye
Mr. John Vye
Mr. Eddie Wade
Mr. Mark Wade
Mr. Paul Wade
Mr. Edward Webborn
Mr. D Whitton
Mr. Robin Wilkins
Mr. DJ Williams
Mr. Mark Stephen Williams
Mr. Ian Williamson
Mr. Lee Kilburn
Mr. Gareth Hughes